CERTIFICATES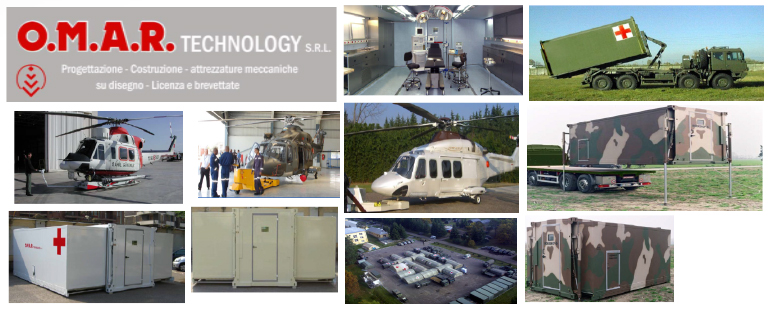 OMAR Technology S.R.L

OMAR technology,
an Italian company, founded in 1975, for more than 20 years, divided it's activities into main sectors:
Mobile field hospitals, Aluminum Field Containers and Helicopter Ground-Support equipment (like Helicopter Moving Trolley)



Helicopter Ground-Support Equipment
(Helicopter Moving Trolley)


OMAR TECHNOLGY,

manufactures electrical trolleys for helicopter movement. It sold more than 500 pieces and different countries and cover both

Agusta Westland helicopters and Eurocopter helicopter models.



The helicopter self-moving trolley designed and patented by Omar allows a single operator to autonomously move helicopters and aeroplanes from the hangar to the runway and vice versa. We also manufacture other helicopters ground-support equipment, like hydraulic platfor


Aluminum Field Containers




OMAR TECHNOLOGY

, patented containers are made of aluminum and all the containers maneuvering (opening and closing, etc.) is performed by an electro hydraulic control unit supplied by 24V internal batteries (or alternatively at 220V 50Hz). In the event of a fault in the system, the walls can be opened and closed using a manual hydraulic pump which is provided. The containers fully comply with all relevant

NATO and military standards.

All the equipment is fixed inside the container and remains in the same position whether in operation or during transport, ensuring the container will be operative in less than 10min. Expanding and closing walls, and vehicle loading and unloading operations, are performed by a single operator using a remote control without external facilities such as cranes, bridge cranes, lift trucks or mechanical lifting equipment.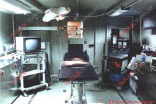 Mobile Field Hospitals




OMAR TECHNOLGY

, manufactures expendable containers for medical use, with dimension from 22m2 to 31m2. They can be used as operating theaters, intensive care units, radiology units, first aide centres, laboratories, pharmacies, etc.

OMAR

has great experience through its involvement in

UN / NATO

peacekeeping operations in Somalia, Mozambique, Kosovo, Albania, Afghanistan and Iraq where its product have been employed. For this reason OMAR is considered one of the most skillful companies in the expandable containers sector.